Lots '0' Permaculture Courses  in 2018!
Homesteaders Permaculture Design Course (PDC)
Missoula, Montana – June 24 – July 7, 2018
Appropriate Technology Course (ATC)
Missoula, Montana – July 9 – July 20, 2018
Peasant Permaculture Design Course (PDC)
Missoula, Montana – May 22- June 21, 2018
Intro to Permaculture, Denver Botanic Gardens
Saturday Feb 10, 2018; 9-4pm
Boulder Thru-the-Seasons Permaculture Design Course 2018
Boulder County – April thru Oct 2018
Pikes Peak Permaculture Thru the Seasons PDC 2018
Colorado Springs – March thru October 2018
Denver Permaculture Design Course
Denver – Oct 2017 thru April 2018
All-Women Teachers Online Permaculture Design Certificate (PDC) 2018
Online – Coming in March 2018
2017 Home Grown Food Summit
2017 Thru-the-Seasons PDC in Boulder
2017 Permaculture Design Certificate in Manitou Springs
Register: http://www.pikespeakpermaculture.org/events/permaculture-design-certification/
All About Compost Workshop, 19 November 2016
Denver Permaculture 2nd Annual Confluence 7-9 Oct 2016
North American Permaculture Convergence, 14-18 September 2016
Plants & Permaculture in the City Meetup
Sunrise Ranch PDC
Sonic Bloom Permaculture Academy
DENVER'S Permaculture Action Day with The Polish Ambassador
Friday Oct 23, show at the Filmore
Saturday Oct 24, 10am at Sustainability Park
https://www.facebook.com/events/878672848882934/
ARISE Music Festival
http://www.arisefestival.com/2015/3-day-permaculture-design-intensive/
 At Sunrise Ranch, home of one of the oldest CO Food Forests (almost 30 yr) ….Then  a Permaculture Action Day with The Polish Ambassador and a group of 150 activists.     http://thepolishambassador.com/
Mimosa's on Meade Plant Exchange – Save the Date and Plant Your Seed!
Sat 16 May 2015, 9-12pm. Bring starter plant, established plants from your home, garden, or store, or whatever home and garden items you would like to exchange.  Leave what you bring, take what you want.  Light breakfast and mimosas will be served.  Please feel free to invite and bring family and friends, plenty of room for all! Contact me for address and RSVP.
"Regenerative Watershed: From Plumbing to Policy" With Brad Lancaster
Thur 28May2015. This will be epic, Denver.
http://www.denverpermacultureguild.com/product/plumbingtopolicy/
2015 Convergence is upon us
Register now: http://www.coloradopermaculture.com/events/
Sustain Arvada Festival, Sat 9 May 2015, Run a marathon, drink, get crafty and stop by, show your support, pet a goat
https://arvada.org/about-arvada/sustain-arvada-festival
Meade Street Market, Saturday 25 April 2015
Lots of upcoming classes, courses, and fundraising events…
The launch of Rockies Edge Permaculture!
We are crowd funding to raise money for the Scholarship fund…Please donate now and help someone on their Permaculture journey!  http://www.gofundme.com/lk2gt4
Compost Workshop, 3 May 2015
Classes at Denver Urban Homesteading
Help finish up the Geodesic Dome build!  Sun 16 Nov 10-4pm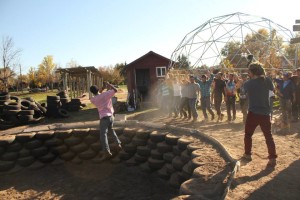 Monthly Natural City Builder's Guild potluck
Hoedown Season starts again…FruitJar Series, Front Range Urban Inter-Tavern Jamboree Revival 
https://www.facebook.com/events/935681216446816/
 Autumn Barn Dance via the Living Arts School, Fri 14Nov http://www.livingartsschool.com/register/?ee=154
I'm talking Compost at the next Boulder Bioneers Conference, Nov 7-9
http://www.colorado.edu/ecenter/bioneers
Geodesic Dome Build this weekend with Avery and Mike
Denver Village Building Design Course
http://www.placecraft.org/course-details.html
http://www.livescience.com/21496-5-edible-garden-weeds.html
Skål Farm Cooperative Saturday Markets, 3-5pm
https://www.facebook.com/skalfarmcolorado
*I'm selling soaps, plants, and more, come check it out!
Barn Dance via Living Arts School, July 25, 7-9pm
http://www.livingartsschool.com/workshops/oral-and-movement-arts/
Compost Open House at Tararae's
Monday 17 June and Tuesday 24 June, 2014; 6-8pm
Contact me for directions.
First North American Permaculture Convergence
http://northamericanpermaculture.org/
Yearly Plant Exchange!
Sustain Arvada Festival – our urban agriculture booths were popular: http://arvadapress.com/stories/Team-spirit,153943?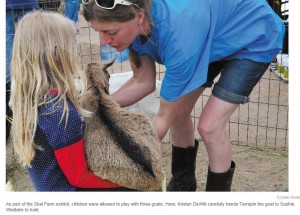 Folk Dance this Friday!!!
http://www.livingartsschool.com/register/?ee=64
SEED SWAP this weekend! Sunday February 23…Contact me for directions.
Join us at the Sidewinder for drinks and dancing!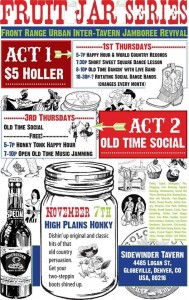 The dance is the music – L.R. Watkins, "Turning Famous"
Bioneers Conference this weekend!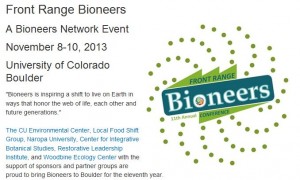 "People who force nature force themselves.  When we grow only wheat, we become dough.  If we seek only money, we become brass; and if we stay in the childhood of team sports, we become a stuffed leather ball.  Beware the monoculturist, in religion, health, farm, or factory.  He is driven mad by boredom, and can create war and try to assert power, because he is in fact, powerless.
To become a complete person, we must travel many paths, and to truly own anything we must first give it all away.  This is not a riddle.  Only those who share their multiple and varied skills, true friendships, and a sense of community and knowledge of the earth know they are safe wherever they go.
There are plenty of fights and adventures to hand: the fight against cold, hungry, poverty, ignorance, overpopulation and greed; adventures in friendship, humanity, applied ecology, and sophisticated design – which would be a far better life than you may be living now, and which would mean a life for our children.
There is no other path for us than that of cooperative productivity and community responsibility.  Take that path, and it will change your life in ways you cannot yet imagine."
– Bill Mollison
Always remember, the best things in life…are not things.  And the more you know, the less you need.